Southern California Soccer Officials Association
San Diego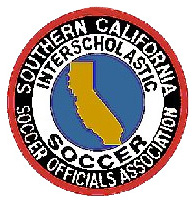 Missing Partner Procedures
It is suggested you PRINT & KEEP A COPY of these instructions with you when you go to your games.
If your partner for a game is not present 15 minutes prior to game time call your assignor.
If you are on a non-varsity game as a single referee add $20 to the payment slip for refereeing alone.
If you are on a VARSITY game get a second official.

Have an official from a previous game at the site stay.
Have a referee from a concurrent non-varsity game at the site change to the Varsity game even if it means the non-varsity game will be played without a referee.
If a second official cannot be found at the site contact the assignor to get a second referee there.
As an absolute last resort referee the game as a single referee and add $20 to the payment slip for refereeing alone.
If you are the "late official" and have been replaced in accordance with this policy you will assume the open position in the non-varsity game. If the games are already significantly into the first half, you must ask permission to join that game. Otherwise, just go home. You have no right to the assignment when you are late and you have been replaced!!

Each referee involved with a missing partner or with changing games needs to email the assignor with complete details on who did not show and any referees that changed games and what games those were.
© SCSOASD All rights reserved 2023-2024 (Privacy Statement)
---
---