Southern California Soccer Officials Association
San Diego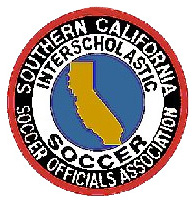 General Information
You will receive email notices of dates, times, locations, etc of upcoming meetings or events if you are on the SCSOASD email list. If you want to be on the list email Bob Petterson at scsoasd@yahoo.com . Preseason training typically consists of multiple classroom meetings plus 3 online instructions webinars.

The first meeting is usually in late September. General meetings are also held. Dates will be posted here as they are firmed up. There will also be a general meeting usually held in November and one at the end of the season. The dates of these meetings will be announced when we know them.


Meeting Location & Times
For our 2017/2018 season the specifics are as follows:

FIRST MEETING: October 10th @ 6:00pm COMPLETED!
SECOND MEETING: October 17th @ 6:00pm COMPLETED!
THIRD MEETING: November 7th @ 6:00pm
YEAR END MEETING: TBD
All meetings will be at Thurgood Marshall Middle School Performing Arts Center (theater) in San Diego at Scripps Ranch, 9700 Avenue of Nations, San Diego, CA 92131 (Thomas Brothers map #1209, H-6.). The link below is to Google maps.
Directions Link
Online Training Times
In addition to the general training meetings there will also be 3 mandatory online training sessions in the evenings usually held in October. Information on how to access the webinars will be discussed at the 1st meeting of season or visit the Training and Testing page for more information. Note: Don't forget to register for the webinar meetings. The link can be found in Online Training section of the Training & Testing page.
Webinar Online #1 - TBD
Webinar Online #2 - TBD
Webinar Online #3 - TBD
If you have not received the class information email before the webinars please contact Bob Petterson.
Attendance & Participation
CIF certification mandates that you attend annual training. A record of attendance is sent to the CIF Office.
© SCSOASD All rights reserved 2017-18
---
---