Southern California Soccer Officials Association
San Diego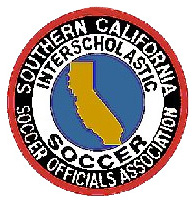 SCSOASD & Relevant Contact Information
The table below is contact info for various specific individuals involved with SCSOA-SD. A historical list of all the former staff of SCSOASD and the years they served can be viewed at this link (Coming Soon!). For specific referee contact email addresses you must be an SCSOASD member of ArbiterSports.com and visit our on-line assignment program.
Our Current Leaders
President - Bob Petterson (1997 thru 2017)
Vice President - Pete Aufsesser
Treasurer - Paula Miller
Secretary - Jesus Acevedo
Instructional Chair - Tom Phillips

A list of relevant names and contact lists.
Name
Phone #
Email
Bob Petterson
858-695-0596
scsoasd@yahoo.com
Pete Aufsesser
619-922-6177
paufsess@mail.sdsu.edu
Paula H. Miller
858-967-8049
millertime59@cox.net
Jesus "Jesse" Acevedo
619-392-6200
jesusa@cox.net
Leanne Harris
760-518-2577
leannesocref@aol.com
Tom Phillips
619-313-2275
tom.phillips.seawolf@gmail.com
Art Mitchell
619-733-0006
refereeassignor@artmitchell.com
Arnold Baldeaux
619-957-8350
sd.isoa@gmail.com
Scott Fontaine
858-204-5756
sfontai@lgsd.k12.ca.us
Jesus Sanchez
760-427-7821
sjesus123@hotmail.com
Hugo Rios
619-992-1005
USSFSoccerref@yahoo.com
Jack Dobransky
619-733-8071
JackDobransky@gmail.com
CJ Read-Jones
858-405-3070
goals325@hotmail.com
Important SCSOA Addresses
SCSOA President - 9683 Tierra Grande Suite #101 San Diego, CA 92126-6503
SCSOA Treasurer - 6615 Soaring Dr San Diego, CA 92119 (Payments or fees)
Important CIF Sites
Referee Game Assigning & scheduling - www.ArbiterSports.com
CIF of San Diego County - www.CIFSDS.org
Referee Instruction Online - www.refereeinstructiononline.com
Southern California Soccer Officials Association - www.SCSOA.com



Local referees associations
San Diego Soccer Referees Association - www.SDSRA.com
San Diego North County Soccer Referees Association - SanDiegoReferees.com
San Diego County Soccer Referees Association - www.SDCSRA.com
Temecula Valley Soccer Referees Association - www.TVSRA.com
Calsouth - www.CalSouth.com



National & International Referees Associations
FIFA - www.FIFA.com
USSF - www.USSFcom
USYS - www.USYouthSoccer.org
CalSouth - www.CalSouth.com
AYSO - www.AYSO.com


© SCSOASD All rights reserved 2017-18
---
---