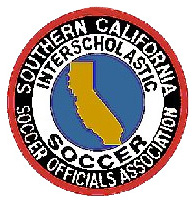 Southern California Soccer Officials Association
San Diego
Welcome to SCSOASD!
Welcome to the home page of the Southern California Soccer Officials Association of San Diego (SCSOASD). For two decades we have been the exclusive provider of high school soccer referees for games in the San Diego Section of the California Interscholastic Federation (CIF-SDS) serving San Diego and Imperial Counties.

SCSOASD is a not for profit association governed by an all-volunteer board.

We are always in need of qualified referees and encourage any of you who have friends that are not already officiating high school soccer to contact us.

Our season runs from Mid-November to early March with training sessions starting in October. Significant dates are listed on the Calendar page.

SCSOASD uses an on-line service for referee assignments and schedules. We communicate primarily through email. You can find more details on the assignment process on the Administration page.

Be sure and read about Concussions on the Training & Testing page. See the Administration page for a link to Middle School/Jr. High rules.

A new disqualification form has been developed. Go to the Training & Testing page or look under Game Day Procedures for more information. Game Day Procedures is also helpful for rule differences between FIFA and high school, proper goal setup, rain procedures and other general information on SCSOASD.


NEW 2023 CIF RULE CHANGES
It is suggested you PRINT & KEEP A COPY of these directions with you when you go to your games. 2023 Rule changes
Chip Zuckerman - President
Updated October 2023