Rules
High school soccer has a Rules Book. It is very similar to the LOTG. Differences are published each year in the high school Rules Book. These differences and those differences unique to our association are reviewed at the annual training sessions.You will receive a booklet at one of the 1st meetings of the year with all the rules and updates for the new season. If you do not get a rules booklet at the meeting contact the SCSOASD President via email. You may pick a rules booklet up at his office or you can ask him to send you a booklet via mail provided you supply him with a self addressed envelope and necessary postage paid. A new Phone APP is free to download onto your phone. Once installed you can purchase the current year NFHS Rules for soccer through the APP. NFHS Rules APP
NEW CIF RULE CHANGES for 2023 season
It is suggested you PRINT & KEEP A COPY of these directions with you when you go to your games. 2023 Rule changes
There are different rules in high school soccer compared to USSF games and high school has its own Rules Book. It is very similar to the USSF LOTG. Differences are published each year in the high school Rules Book. These differences and those differences unique to our high school association are reviewed at the annual training sessions. Above is a matrix diagram of the current rule for high school penalty kicks.
It is suggested to PRINT & KEEP A COPY of these instructions when you go to your games.
Test Preparation & Procedures
You MUST pass a test each year before you may referee for SCSOASD with a score of 90% or better. The test is multiple choice answer test online. It consists of questions from the information learned from the rules booklet, the online training, general meetings as well as concussion training. Follow the instructions below to take the test. You will need to have passed the rules test, paid your dues, have an Arbiter account, profile picture and completed your CDC concussion training to be eligible for games. Good luck!
Online SCSOASD Test in English Click to take CIF Exam
Online SCSOASD Test in Spanish Haga clic para tomar el CIF examen
If for any reason you have difficulty logging in contact an administrator.
Training Review & Self-Learning Online
2022-23 Training Meetings



Training Review of 2021-22 Meetings
Training Session #1 Rule Changes & General Information


Training Session #2 The Dual Referee System Explained & CIF vs USSF Rule Differences


Training Session #3 CIF Important Emphasis & COVID 2021-22 Updates
Online Self-Learning








Concussion Training & Testing
The association requires you take or review one of the courses below at least once a year for keeping up to date with medical and preventative methods and procedures. Once you have completed either or both of the courses download your certificate for your own records. But also be sure to send a copy of the certificate to the SCSOASD President via email. You will get 1 hour of credit towards continued training and education.
It is suggested you PRINT & KEEP A COPY of these directions with you when you go to your games. It is very useful to hand out to parents or coaches if a player has an injury.
National Federation's site under concussions. NFHS's Concussion Course
CIF State site recommendations for concussions. CIF California State Recommendations
Goal Setup & Safety
Acceptable and Unacceptable Goal Setup - this section shows photos of acceptable and unacceptable goal setup. Always inspect the goals before a game. Just as important - goals MUST be secured so they won't fall over. Remember - player safety is paramount. If any of these items below are not right or if you have a question report it to your assignor and/or the SCSOASD President.
Goals MUST be checked prior to game.
Goals MUST be secured using sand bags, weights or chains, etc....
If football crossbar & uprights extend into the soccer field any ball that hits them is deemed to have crossed the goal line. The restart will either be a corner kick or a goal kick.
Back of soccer goal post must be even with back of soccer goal line.
Football support post must be at least 2 yards behind soccer goal line.
Football support post should be padded if inside soccer goal.
All setup errors are to be reported.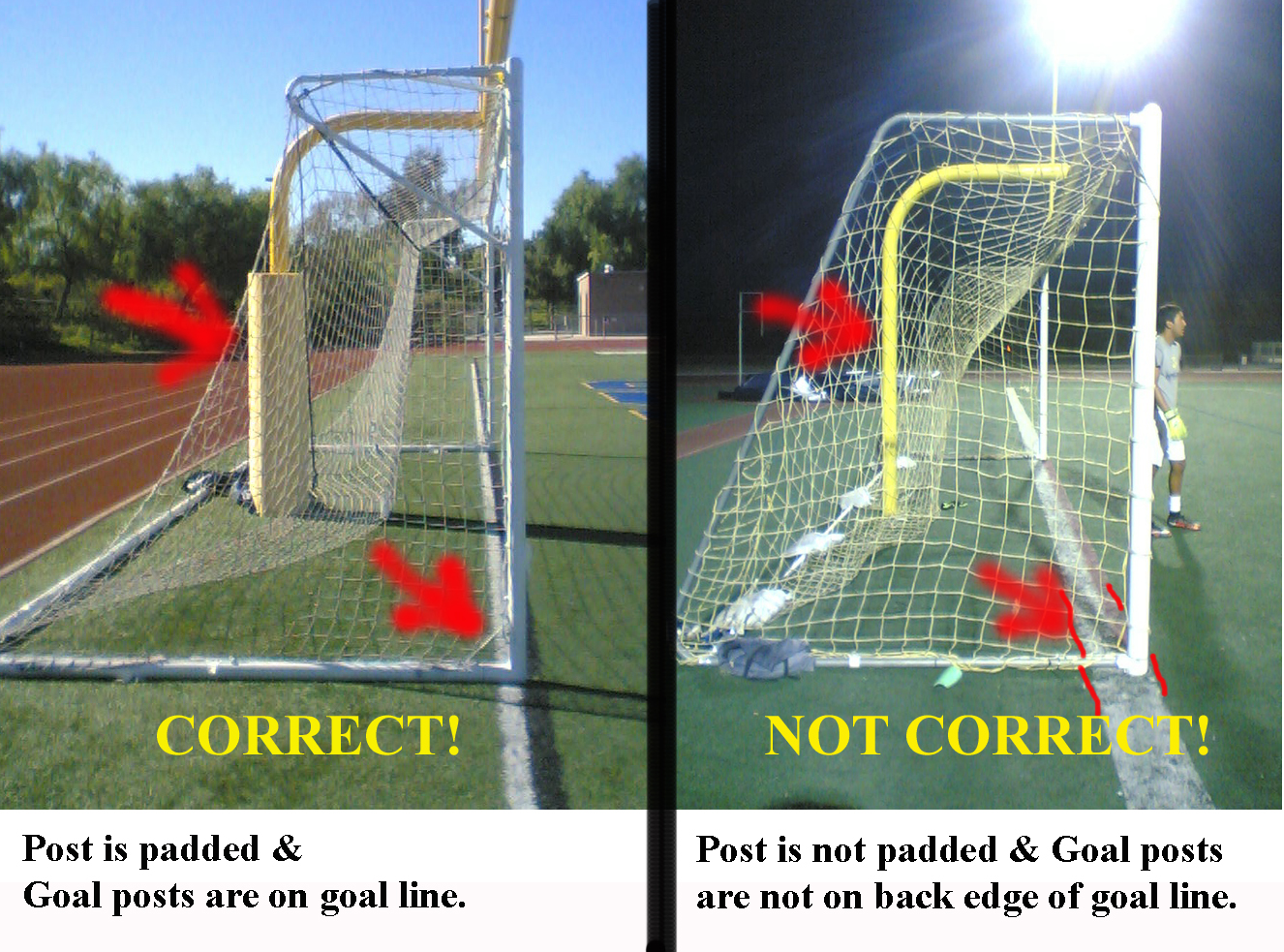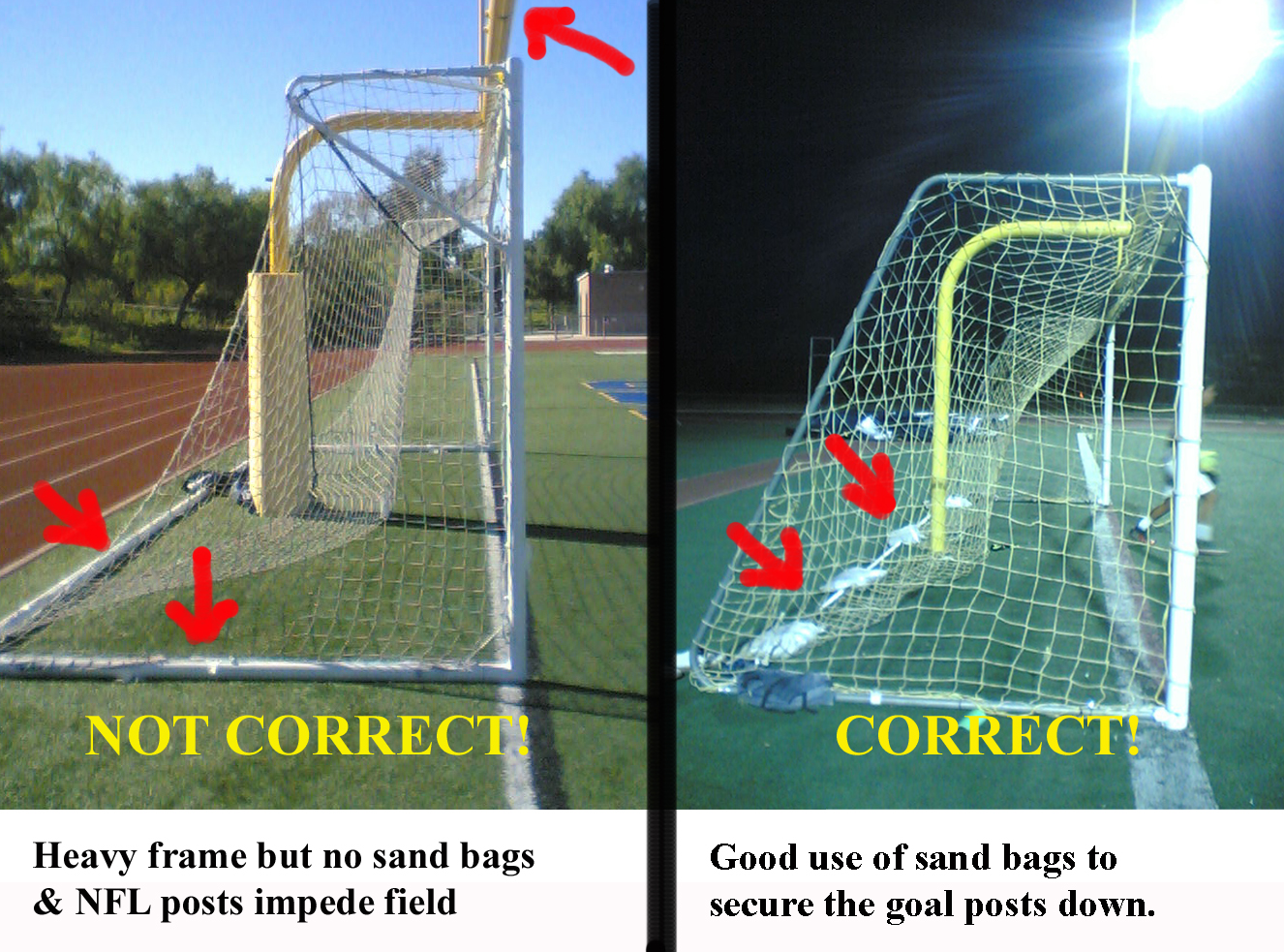 Printout List
Below is a list of all of the suggested printouts for the CIF 2023 season.
---
---